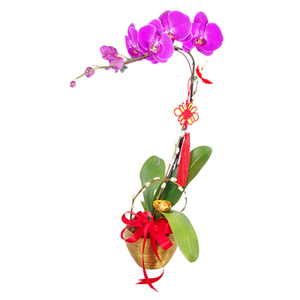 Prosperous Phalaenopsis Orchid To You 
Be the family favourite when you decorate your home with these prosperous Phalaenopsis orchid flowers. This magnificent Chinese New Year flower will surely be a welcome addition to your CNY home decorations and gifts. You can send this as a Chinese New Year open house gift too.
STEMS INCLUDED
Potted Phalaenopsis Orchid (1 stalk)
PERFECT FOR
Chinese New Year, Congrats, Thank You, Decor
LIFESPAN
1-3 months
Pre-Order in advance 4-5days period***While Stock Last****Orchid Colors Depends on Stock Availabilty
*Color depends on stock availability*
 To note: Images shown are for references only. The main flowers will stay the same while supporting foliage used will be subject to seasonal availability. Every bouquet is uniquely made with the freshest seasonal flowers available to create the look you have chosen.
Available from 09th Jan 2023- 20th Jan 2023@Friday 
 Self-collection (Guardhouse Taman Riverville, Bachang Baru, 75200 Melaka) 
Weekday - 11.00am-7.00pm 
Weekend - 10.00am-1.00pm 
Delivery (Chargeable at RM20 town area)
Delivery (Depends on the exact location for out of town area) 
Delivery (NO delivery for Sunday, Saturday 10am-1.00pm)
Our delivery time is from Weekday 1-6pm, Weekend Sat 10-1pm, depending schedule order route on the day. We can't fix the time as we promise will be by your place in between that time period!

Upon order made, a Whatsapp message containing the payment details will be sent. Your order is only confirmed after successful payment made via bank transfer.