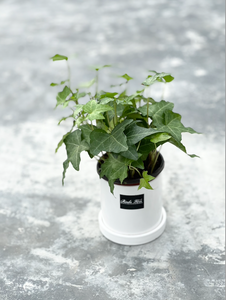 Plants To You (English Ivy Green)
English Ivy Green can make a wonderful, bright light houseplant. It can grow long and lush and bring a bit of the outdoors inside. Growing ivy indoors is easy as long as you know what makes an ivy plant happy.

Specially designed for you in ceramic attached saucer pot. Just perfect on your office table or and indoor spaces. 
Self-collection (Guardhouse Taman Riverville, Bachang Baru, 75200 Melaka) 
Weekday - 11.00am-7.00pm 
Weekend - 10.00am-1.00pm 
Delivery (Chargeable at RM20 town area)
Delivery (Depends on the exact location for out of town area) 
Delivery (NO delivery for Sunday, Saturday 10am-1.00pm)
Our delivery time is from Weekday 1-6pm, Weekend Sat 10-1pm, depending schedule order route on the day. We can't fix the time as we promise will be by your place in between that time period!

Upon order made, a Whatsapp message containing the payment details will be sent. Your order is only confirmed after successful payment made via bank transfer. 
Other payment method as below: 
Bank Name: Public Bank
Account Name: RF Studio
Account Number: 3197687611

Bank Name: Maybank
Account Name: Koo Sinn Yin
Account Number: 154062507991